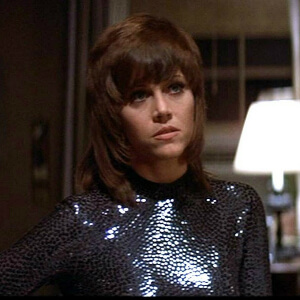 Alan Pakula's sexual thriller is still a little jarring in its frankness, even today.  In the age of "sex tape as career move", very little can astound or shock, but Jane Fonda's electric and vulnerable turn as a call girl hunted by a killer gives the viewer entrée not only into the precariousness of her world, but in her own vulnerability.  She plays Bree Daniels, a struggling actress who considers her sexual exchanges mini-dramas, where she gets control, something she clearly needs desperately, even if it is self-destructive.  When we see her in action, she's powerful and pitiable, all the while exhibiting how effective and alluring a good call girl can be.
Daniels is saved on more than one occasion by a laconic John Klute (Donald Sutherland), a police officer turned p.i. who is investigating the disappearance of a businessman who may or may not be her stalker.  Naturally, they develop a relationship.
Pakula (The Parallax View, All the President's Men) has a keen eye for the shadows and menace in otherwise humdrum, pedestrian environs.  He also has great patience, which results in very understated, moving scenes, such as when Fonda flips through the catalogue of homicide photos of dead prostitutes, and her character and the viewer see her face in all of them.  The scenes where Fonda attempts to seduce Sutherland in order to establish control are similarly subtle, and Pakula places you directly in the dilemma of not wanting to be played but being enticed all the same.
There are problems.  Fonda is so good (she won Best Actress) I thought the scenes of her in therapy were unnecessary.  She's strong in them, but she's better expressing her foibles and fears in the context of the story.   As the detective, Sutherland runs into the opposite problem.  He is fully unexplored, a quiet mechanism for Fonda's growth and nothing more.  I  wanted to know more about him.  Not tons, but something.
Still, this a very strong picture that holds up well, especially given the subject matter.