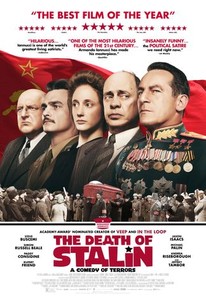 Imagine HBO's Veep, but instead of the made-up travails of a narcissistic, ambitious politician in the form of Julia Louis Dreyfus, you have Khrushchev, Beria, Molotov, Zhukov and Malenkov, all jockeying for power and survival after Stalin has passed.  Like Veep, writer-director Armando Iannucci's movie is undeniably hilarious, providing the entire swath of the comedic, from slapstick (the scene where each central committee member arrives at Stalin's unconscious body on the floor, only to engage poorly with his urine, is gut-busting) to sharp wit delivered so fast, you catch it 30 seconds later.  Steve Buscemi's scheming Khrushchev is inspired, as is Jeffrey Tambor's vain toady Malenkov (good to see him again since his banishment for his own crimes against the state).
The only aspect that drops this a half point is the milieu.  It is undeniably funny, but we are dealing not with the trials and tribulations of Vice President Selena Meyer, which are ultimately trivial, but the terror and horror of the Soviet state, which sometimes tempers the laughs.
But only a little (at least, for me).  It is, after all, a very black comedy.  The film is currently on the Showtime schedule and was also one of The New York Times top 10 for 2018.  It's also one of mine, thus far.