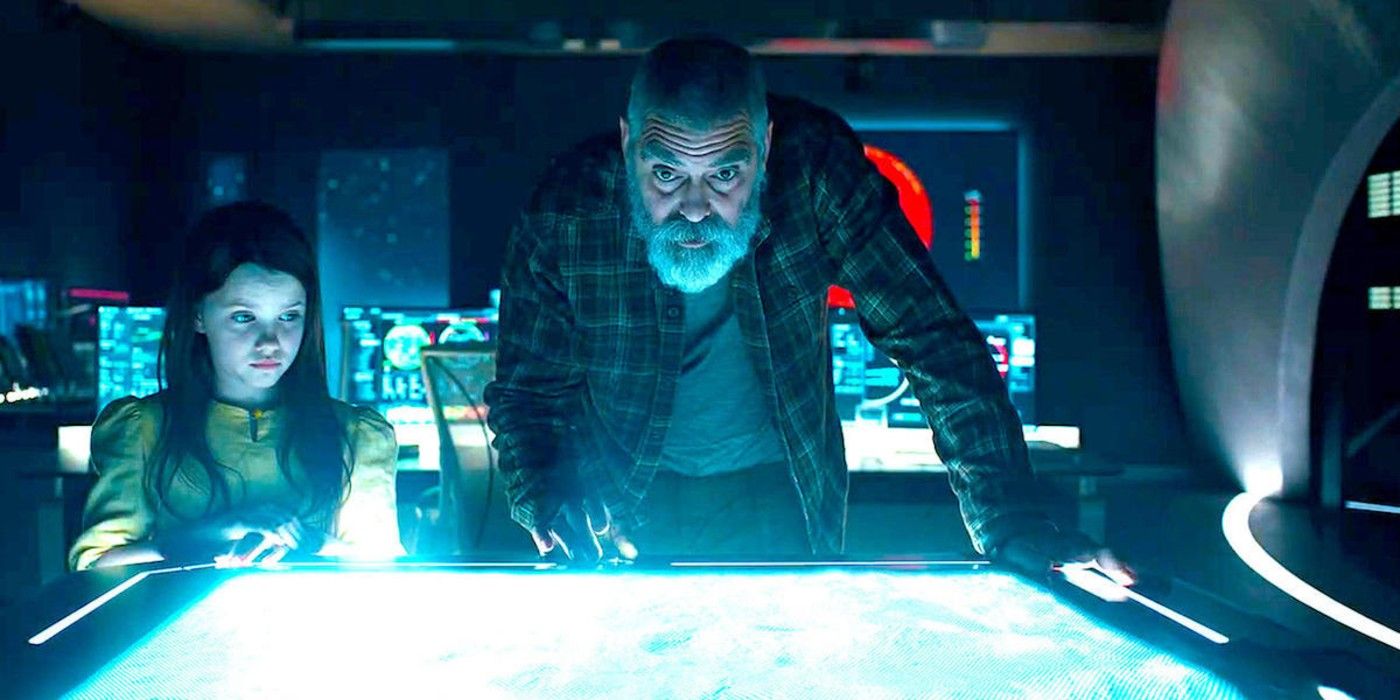 George Clooney's overly meditative, end of the world film makes the initial mistake of not quite telling us what happened to the planet. Something about radiation, and since he is alone in the Arctic, we are alone with him and his flashbacks and perhaps his hallucinations as he dies of cancer. But once you get a sense of the kind of ridiculous, ass-backward people living in the future, the cause of their extinction is of no great moment. They say chickens are so stupid they'll drown in the rain. That's us forty years hence.
But Clooney has one last task before he perishes. He must get word to an incoming space vessel from Jupiter that the world has gone to pieces. They have been on a two year mission and soon, they will be "in range" and Clooney can tell them, "Go back to the habitable moon near Jupiter. Great danger here."
This film is set in 2049.
Now, imagine I am Peter Finch. I want you all to stop reading, and go Google, "How long does it take to send a message to jupiter".
Result: "approximately 35 minutes. Radio waves travelling at 300,000 km/second would take approximately 35 minutes to reach a satellite orbiting Jupiter depending on alignment, and the same time to travel back to Earth, equaling about 1.2 hours."
But filmvetter, you might say, the radiation threat just came on so quick there was no time!!! THERE WAS NO TIME!!!!!!
Nonsense. When the ship does get "in range" of Clooney and they establish contact, a message is downloaded (ha!!!) from the wife of crew member Kyle Chandler.
In it, she states that she is being evacuated and their sons are sick.
So, this calamity took some time. Indeed, the opening scene shows continued evacuations and there is a later reference to survivors underground.

I guess in all the panic, however, no one thought, "Hey, let's send a raven to the incoming ship from the potentially habitable moon off of Jupiter." It's like the president was George Costanza and someone yelled, "Fire!"
It gets worse.
In The Martian, I raved about Matt Damon's intrepid skills when he was stranded, and I also nit-bitched about the hip slackers on the ground ("the people who work at NASA have a certain blasé "I worked in a Blockbuster and I will never wear a uniform again" mien")
I owe the NASA staff in The Martian an apology.  They were the cream of the crop compared to this lot.  And while Damon was dexterous and tough, here, the crew presents as a mixture of incurious and frivolous.  When they learn that life on our planet has not only changed, but that the planet is lethal, half of them somberly insist on going to their homes to face certain death. They literally abandon ship.  The other half head off back to Jupiter with a badly damaged vessel minus two critical team members. But all four seem unperturbed. Where is Chuck Heston and "You maniacs! You blew it up!" when you need him?
Oh, and the two who are Jupiter-bound are Captain Daniel Oyewelo and Felicity Jones. It appears the good captain has been at it with the crew, because she is pregnant with his child! Another crew member, Tiffany Boone, throws up several times because she has to make her first space walk. And she's not even the one who is knocked up.
Or is she?
Mind you, this was not a 20 year voyage.
It was two!!!!!!!
(A good friend did note that at least the movie progeny will be something special, as the offspring of a filmic Martin Luther King, Jr. and Ruth Bader Ginsberg.)
Alas, NASA, apparently, becomes the DMV in the future.
Ultimately, the film is not only stupid, it is depressing. In the future, we supplant bravery and common cause and sense with uber-narcissism.
The schmaltzy, arty ending is insufferable.
Adding insult to injury, there's a crew sing-a-long to Sweet Caroline.
Oof.