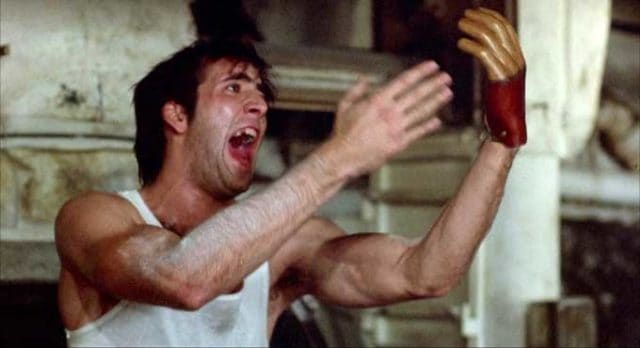 I had never seen this movie in its entirety, only clips ("MY HAND!!!!" and "Snap out of it") or a few scenes.  It's a charming film, made more so by funny and smart performances all around.  Every character, save for John (scene stealer) Mahoney, is an old country-linked Italian in 1980s Brooklyn, so I expected broadly comic, and there are some such scenes.  But for the most part, the film eschews "Mama Mia!" and instead, provides opportunity for Cher, Nicholas Cage (his weird instincts and passion are transfixing), Danny Aiello, Olympia Dukakis, Vincent Gardenia, William Hickey and others for a little introspection, some intelligent mugging, some surprising underplaying, and some truly tender moments. 
The picture feels almost like a long-running and beloved stage play. I guess that makes sense, given it was written my renowned playwright John Patrick Shanley ("Doubt"). Shanley snatched the Oscar for best original screenplay, and while I would have gone with Broadcast News, I'm okay with it.
At 102 minutes, the film is also a shining exemplar of economy. I laughed, I cried, and I didn't need to go to the bathroom.
Currently on Showtime.