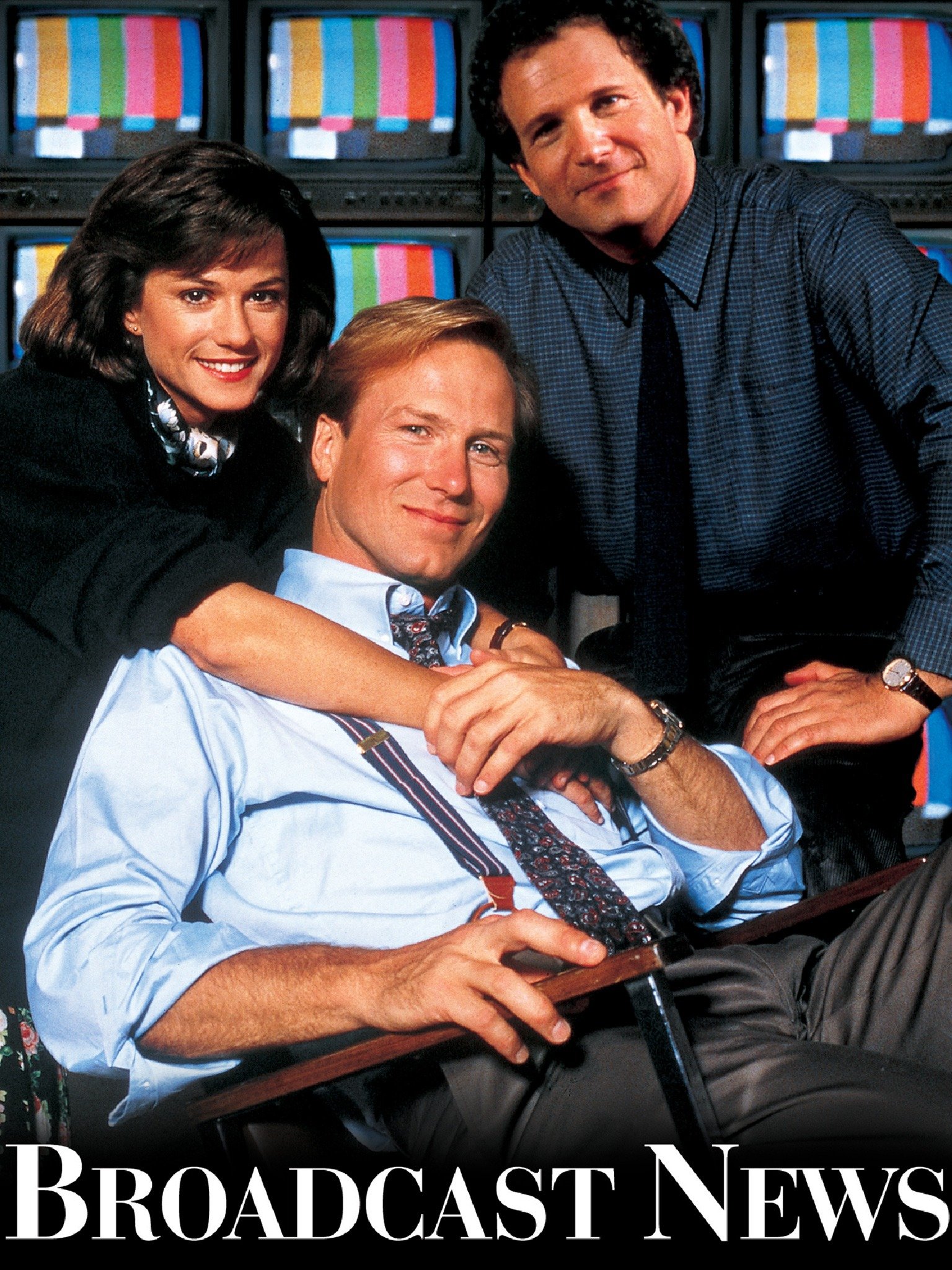 James L. Brooks has the ability to make you laugh out loud just before he brings a tear to your eye, a skill he has honed in Terms of Endearment and As Good as It Gets. His missteps (How Do You Know, Spanglish) still contain very funny dialogue, even if the whole doesn't work.  But to be fair to Brooks, Paul Rudd, Reese Witherspooon, Adam Sandler and Tea Leone are not very formidable substitutes for Jack Nicholson, Shirley MacLaine, and Debra Winger.
In Broadcast News, Brooks melds a love triangle with a story about journalism and ethics that is prescient.  Holly Hunter is the producer of the Washington bureau of a major news network, Albert Brooks is a gifted but un-telegenic correspondent, and William Hurt is the new up-and-coming golden-boy, groomed to replace the current anchor (Jack Nicholson, in a hilarious cameo).  Hurt is attractive but shallow (as Brooks says, he is against everything Hunter is about).  But Hurt is also sweet and in his own way, genuine.  He fancies Hunter and when Brooks tries to anchor the weekend news in an effort to save his job, Hurt is there, giving him advice, some of which is excellent ("punch" a thought in each sentence) and some of which makes Brooks very uncomfortable ("Just remember that you're not just reading the news, you're narrating it. Everybody has to sell a little. You're selling them this idea of you, you know, you're sort of saying, trust me I'm, um, credible. So when you feel yourself just reading, stop! Start selling a little").  Hunter becomes infatuated with Hurt, and as they grow closer, Brooks professes his long love for Hunter and reveals the ethical threat that is Hurt.
The picture is loaded with crisp, witty dialogue, and at its best, it evokes the great Grant/Stewart/Tracy v. Hepburn romantic comedies. The picture also injects something of substance (the deterioration of the news), not with the acid cynicism of Network, but gently, so as not to get in the way of the story and humor.
There is also great physical comedy, provided by Joan Cusack as a gawky assistant producer, and Brooks, who endures the great humiliation of flopsweat during his shot at anchor.  The scene is one of the funniest in film history.
The movie has one problem, but it is a big one.  Holly Hunter is so mannered and quirky that you simply cannot understand Hurt's attraction to her, much less that of Brooks. Sure, the good looking neophyte might be intrigued by the neurotic but fascinating "other" ala' Robert Redford and Barbra Streisand in The Way We Were.  But Hunter takes "odd" up several notches, and in many scenes, her facial expressions approximate her work in the live cartoon Raising Arizona.  Her temper is also so volcanic as to suggest mental illness.
Certain lines cannot be crossed in a romantic comedy.  I was reminded of the awful Hugh Grant-Sandra Bullock vehicle Two Weeks Notice, wherein Bullock has an attack of diarrhea on the highway and Grant has to commandeer a stranger's RV so she can relieve herself.  This may work for Will Ferrell and Zach Galifinakis.  But no romantic lead can be shown in such an unflattering light.  Hunter does not sink to such depths here, but her portrayal does border on the grotesque and it detracts.
There is also the weakness of the import of Hurt's great journalistic sin (he recreates a moment of emotion in an interview) .  There is no question – the act was unethical.  But in the context of some of the other stagey and easy shortcuts engaged in by Hunter and Albert Brooks, their high dudgeon (which is critical to the picture) rings hollow, and the film never gives them a comeuppance on this point other than Hurt's rebuttal to Hunter after she accuses him of crossing the line — "It's hard not to cross it.  They keep moving that little sucker, don't they."