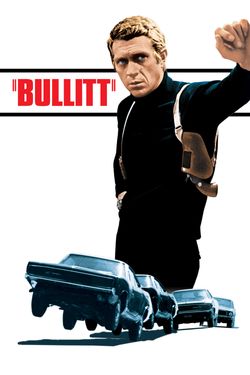 Peter Yates' 1968 detective thriller is a medium cool exercise in restraint propelled by the quiet, canny performance of Steve McQueen as Detective Frank Bullitt. Bullitt is assigned to protect a mob witness by an ambitious D.A. (the charmingly oily Robert Vaughn) and the case goes bad.  As he tries to salvage the situation, we learn about Bullitt's relationships, methods and character, all with less than 100 words from our hero.
The picture is notable for an over 10 minute car chase in and around San Francisco that alternates between chess match and smash up derby. The effect is mesmerizing, an automotive ballet, which is in many ways more impressive than William Friedken's bid to outdo it in The French Connection three years later (the car chase wasn't the only influential set piece; Bullitt has an extended chase scene on foot through the exterior of the San Francisco Airport, which Michael Mann reprised in Heat).
The film also demonstrates why Steve McQueen is such an icon. The debates over his ability to "act" are legitimate.  The "movie star versus actor" discussions invariably arise in consideration of  impossibly macho or attractive leads, such as Wayne, Eastwood, Redford and Gibson. Debate aside, McQueen so resonates on screen that discussing his skills as a thespian seems like quibbling. There is something to be said for understatement (Tom Cruise may just be learning that now).  McQueen can do more with a look or eating a sandwich than a lot of folks can with a soliloquy or stem winder.  When he is poorly imitated (see the catatonic Ryan Gosling in the wildly overrated Drive or George Clooney in The American), his charisma and presence become all the more apparent.
Yates' film is a bit of a jazz riff and some of his shots are annoyingly showy, but hey, it's 1968 San Francisco and Bullitt's girlfriend is the chic and arty Jacqueline Bisset.  So, he gets a pass.