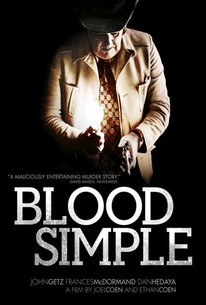 Al Pacino once explained his attraction to a project by tapping his finger to his temple and noting that the director had "a vision." That director was Warren Beatty and the project was the bloated Dick Tracy.
The Coen Brothers' first film demonstrates a true vision, one that has it flaws, but one that is unique and rich, through and through – a sun-drenched, steamy Texas noir potboiler that evokes Jim Thompson and James Cain, updated to include a very sly, dark humor. The plot takes numerous turns, but it is simple in its introduction.   A bartender (John Getz) runs off with the wife (Frances McDormand) of his boss (Dan Hedaya), who in turn puts a lethal private investigator (M. Emmett Walsh) on their trail. Walsh introduces the story in voiceover:
"The world is full of complainers. But the fact is, nothing comes with a guarantee. I don't care if you're the Pope of Rome, President of the United States, or even Man of the Year–something can always go wrong. And go ahead, complain, tell your problems to your neighbor, ask for help–watch him fly. Now in Russia, they got it mapped out so that everyone pulls for everyone else–that's the theory, anyway. But what I know about is Texas…"
What follows is the twisted story of these four characters against the backdrop of a flat, unforgiving landscape. The photography is stunning, and the camera-work is assured, if sometimes a bit too film school flashy (as McDormand and Getz confront each other at his front door, a slo-motion newspaper crashes against it to startle us all). Composer Carter Burwell started his partnership with the Coens on this film, and his score is primarily solo piano, sparse and ominous.  Hedaya is the embodiment of the cowardly cuckold, but he seethes, almost a human pressure cooker. Walsh's sleazy dick is repellant. He almost oozes, but he's canny, using his "aw shucks" as a way to get the advantage. Getz and McDormand are weaker. Getz just doesn't project and while I respect the Coens for eschewing the expected sultry, bored kept woman, McDormand's character requires some charisma and sexuality to justify the risks taken on her behalf. She's never been that kind of actress and here, she's flat.
Still, this is a very good film, and as a debut, it's all the more impressive, presaging the brilliance of Fargo.