The Incredible Burt Wonderstone – 3.25 stars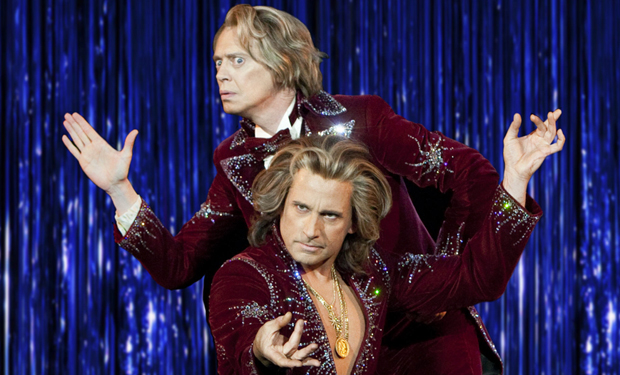 Not bad, not great, along the lines of Dodgeball, with a few good gags (in particular, Vegas magician Steve Carell freaking out 20 minutes after the start of his 7 day stunt stint in a box above The Strip).
This is a movie that answers the question: What would Michael Scott have been had he left Dunder Mifflin to become David Copperfield?
Two takeaways.
First, Jim Carrey plays Carell's nemesis, and boy has he aged.  Cable Guy schtick doesn't work so well from such a weatherbeaten vessel.
Second, I am a huge fan of Steve Buscemi.  He stood out in Miller's Crossing, his dramatic work in Reservoir Dogs and Fargo was gritty, his season on The Sopranos was sublime, and his Nucky Thompson on Boardwalk Empire is rock solid.  But where did he get the reputation for comedic chops?  He's been in 5 Adam Sandler vehicles, but having that on your resume' isn't exactly a recommendation.
Funny looking is not funny.