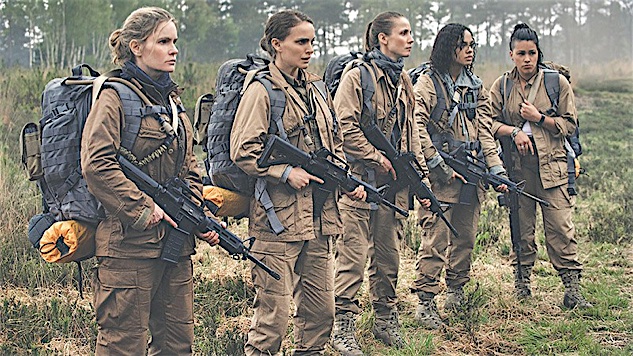 I loved Ex Machina but Alex Garland's follow-up falls short.  Given the film's ambition, however, it is a noble failure.  Natalie Portman is an ex-military, now-professor whose Special Ops boyfriend (Oscar Isaac) goes missing after a clandestine mission.  When he returns, in very bad shape, she is drawn to the mission herself, and soon finds herself part of a five person team entering "The Shimmer", a disorienting, disturbing, inexorably expanding mass of acreage that started when something from the sky hit the ground.  As the team enters to get to the source, they are transformed by their environment, and I'll leave it at that.
It's pretty damn cool.  But ultimately, Garland relies so much on the visual for his message that the picture serves as more of an aesthetic treat than a compelling story.  The ideas are boffo, but the execution is a bit dreary and drawn out, and frankly, like Arrival, this film may just be over my head.
There are other problems.  Portman's harkening back to her transgressions in her relationship with Isaac seems silly given the gravity of her situation.  I was reminded of a stupid movie I saw years back about a group of gals who decided to have a bachelorette weekend spelunking, as most women do, and as hideous mole people chased them through caves, the fact that one of the women slept with the fiancée of another actually loomed large.  "Okay, okay.  I slept with your boyfriend.  Not cool.  Now, can we get back to the mole people?"
One last note – I'm down with 5 women on a military/scientific exercise, but one should be aware of the Ghostbusters re-make and maybe switch up the uniforms.  I half expected

to show up.
On Hulu now.