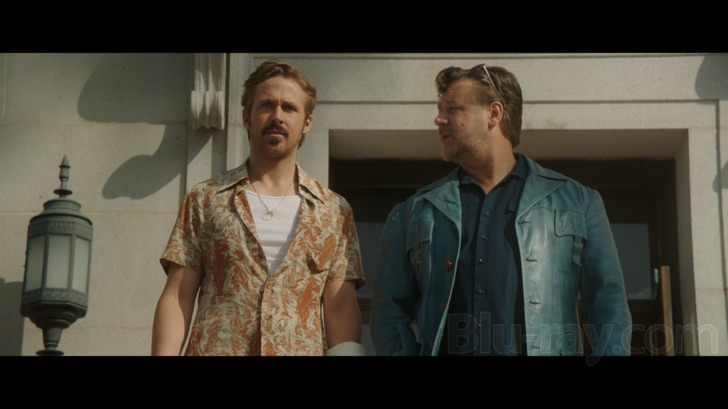 It sounds silly to say, but I'm compelled – they just don't make movies like this anymore.  Shane Black's (Kiss Kiss Bang Bang, Iron Man 3) noir-ish 70s buddy crime comedy pays homage to the genre by faithfully adhering to many of its precepts while updating the form in ways that are progressively more clever.  It's late 70s LA.  Russell Crowe is a burnt out "enforcer" making his dough in the protection racket with brass knuckles and dogged determination.  Ryan Gosling is a private investigator rip-off artist with a drinking problem, a mouthy (but not precocious) pre-teen daughter, and an air of intelligence, if not actual smarts.  Crowe is hired to beat up the person or persons (one of whom is Gosling) looking for a young femme fatale, and the two team up as the semi-serious, but not really serious plot – which melds porno and corporate skullduggery – thickens.
The banter is first rate, the look primo, and the tone just right.  Black writes cynical yet hopeful, and while he makes all his station stops on time, the rides in between are a gas, made even more enjoyable by his crackling script and brilliant physical comedy.  Gosling is particularly adept at slapstick, giving Leonardo DiCaprio's turn in The Wolf of Wall Street a run for its money.
The chemistry between Crowe and Gosling is so strong that I hope the broad hint of a sequel at the end of the film is genuine.  I was reminded of Nick Nolte and Eddie Murphy in 48 Hours , Alan Arkin and James Caan in Freebie and the Bean, and Robert DeNiro and Charles Grodin in Midnight Run.  These guys are having a blast together
Yet, Black never fully commits to the "buddy pic" requirements.  When Crowe, in a moment of reflection, reveals his tender side or Gosling seemingly rises to the occasion by exhibiting theretofore hidden mental gifts, the payoffs are unexpected and laugh out loud funny.  A dream sequence is inserted that is truly ingenious, and there are more than a few other moments when Black's detours enhance the humor.   One of the best films this year.