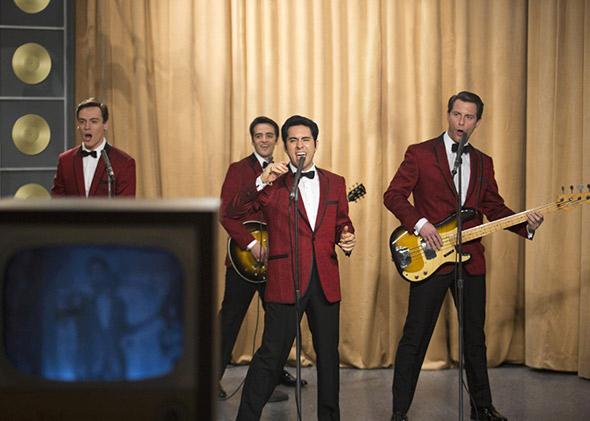 Having re-watched Walk the Line, I then took my son to go see Clint Eastwood's Jersey Boys, the film version of the "smash!" Broadway hit chronicling the rise and fall of Frankie Valli and The Four Seasons. He liked the picture. I did not. Let me count the ways.
1)      You couldn't pick a worse director for this project than Eastwood. Music needs to be shot with energy and verve. Clint's camera work is fixed and unimaginative. Basically, he shot Frankie Valli much like he shot J. Edgar Hoover. Close up. Then farther away. Then a shot to an admiring audience.
2)      The performances mostly run from pedestrian to dreadful. In the latter category, John Lloyd Young as Valli sports a Broadway pedigree and little else. His "go to" move seems to be consternation, be it at the loss of a gig, $1 million or a daughter. Vincent Piazza (Boardwalk Empire) is so goombah you half expect him to hawk Ragu sauce.
3)      The film can't decide on being a whimsical tribute to the Broadway show or a dark, cautionary tale on the perils of stardom. Tonally, it's schizophrenic.
4)      One theme in particular – the omerta of tough Jersey guys – is severely undercut by the fact that these tough Jersey guys are about as scary as The Sharks and The Jets.   In West Side Story, no one was asking you to be scared of ballet dancing toughs; it was a fantasy, delivered in dance, where even the violence was poetic. Here, their bond and hardscrabble roots are important, yet the whole existence seems comedic and pleasant.
5)      134 minutes!!!
6)      The makeup here was worse, if that's possible, than in J. Edgar, and I didn't think that could be possible.
My son countered that I didn't like the music and that queered the film for me. But I didn't like the music in Dreamgirls, and that was a perfectly fine film.
If you want to see the antithesis of this picture, rent Tom Hanks' That Thing You Do, which captures the excitement, fun and then, the letdown, of a one-hit wonder band.
So, why one star?  Filial loyalty and the very funny turn by Mike Doyle as producer Bob Crewe.