The Assassination of Jesse James by the Coward Robert Ford – 5 stars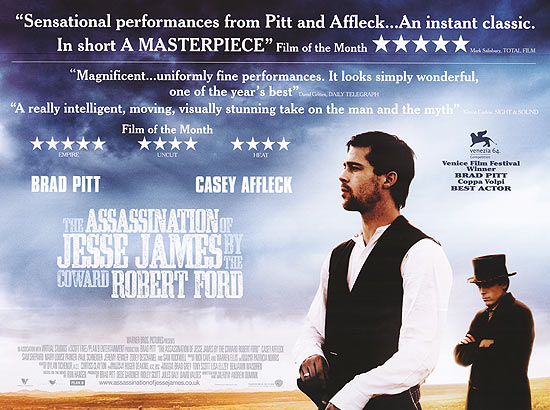 Andrew Dominic's moody, elegiac picture melds Terence Malick's imagery from Days of Heaven and Walter Hill's sense of time in The Long Riders. As Ford, Casey Affleck is mesmerizing, and Brad Pitt's depiction of James as a manic-depressive sociopath is chilling. Their performances are enhanced by Dominic's sweeping, beautiful vistas (the film drew an Oscar nod for best cinematography) and a mournful score courtesy of Nick Cave and Warren Ellis.
A $30 million western without a single shootout (at least, one involving Jesse James) is destined to make a mere $3 million back domestic, but this film is more about hero worship, fame-seeking and insecurity than the violent exploits of the James gang. Affleck, who was nominated for best supporting actor, subtly communicates living in the shadow of Jesse James, traversing the path from awe for a legend, to anger over his idol's coldness and indifference, to maturation and resolve as James becomes more suspicious, mercurial and dangerous. Ford's likening of himself to James in the great killer's presence, which can be found below, is startling in its honesty and vulnerability.
Affleck and Pitt receive strong support, including Jeremy Renner and Paul Schneider as feuding gang members, but as ever, Sam Rockwell near steals the picture as Charlie Ford, playing dumb but in truth, whipsmart and canny. Garret Dilahunt (Deadwood) is also resonant as a doomed and dim Ed Miller.
Upon first review, I wrote, "a glaring fault is an unnecessary voice over narrative, the voice being similar to that of David McCullough. The effect is redundancy and a PBS/History Channel vibe."  I also gently criticized the picture on its length.  I recently saw it again and I was wrong on both counts.  The voice over is not obtrusive nor is it merely aping what is happening on screen.  Rather, it enhances the film's tragic nature (this is a ghostly western and a movie about one of the first celebrity screw-ups) with an explanation as to how it fits historically and personally.  And I was sorry to see it end no matter how long it ran.
This is a unique, accomplished period piece.