Paul Thomas Anderson's opus chronicles the American porn industry in the late 70s via the story of a loose family of weaklings, caught up in the speed, confusion and excitement of sex, drugs and fleeting fame in the bleaching sun of Los Angeles (Anderson took some license here, as the porn industry started in San Francisco and NYC, but his film requires that feel of promise and wasteland that is LA).
The patriarch is porn director Jack Horner (Burt Reynolds), and the story revolves around his LA retreat, a gaudy ranch-styled haven for his coterie of misfits.  There are the young rejects: porn star and mother Amber Waves (Julianne Moore), her teen charge Rollergirl (Heather Graham), studs Reed Rothschild (John C. Reilly) and Buck Swope (Don Cheadle) and lesser stars Jessie St. Vincent (Melora Walters) and Becky Barnett (Nicole Ari Parker); the film crew (William H. Macy, Ricky Jay and Phillip Seymour Hoffman); the money men, The Colonel (Robert Ridgely) and Floyd  Gondolli (Phillip Baker Hall); and a host of hanger-ons (club owner Luis Guzman and troublemaker Thomas Jane).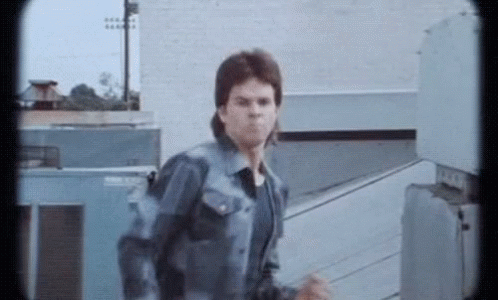 Into this world comes Mark Wahlberg, a young kid who works at Guzman's nightclub and comes to the attention of porn director Horner after Rollergirl has an encounter with him and reports back his massive endowment.  Horner offers the boy a place in the family.  Wahlberg becomes Dirk Diggler, porn superstar, escaping from a toxic home to the warm embrace of pseudo-stardom in fuck films.  In the world of porn, he finds acceptance, friendship and a certain form of celebrity.
Diggler is based on famed porn star John Holmes, and while Anderson doesn't take Dirk Diggler down Holmes's exact path of The Wonderland Murders and AIDS, the trip tracks close enough.  Hubris and drugs take Diggler from the safety of Horner and his new family to the street, where he ends up turning tricks, beaten by punks, desperate to score drugs and nearly murdered by a psychotic drug dealer (Alfred Molina).
To a person, these people are none-too-bright, but they cleave together in a life that mirrors celebrity, though it is gaudy and flimsy, glitz on the cheap.  They briefly flourish in a fantasy world within a fantasy world, where their work is deemed art, and their talent is certified as genuine.  Despite the self-delusion, Anderson shows how the family actually provides support to these outcasts never found elsewhere.
The film is visually audacious and features several flowing scenes without a cut for long stretches, including a 3 minute opening scene which introduces most of the characters.  Anderson's filming of two separate parties at the Horner house is boundless and reminiscent of Altman's opening scene in The Player as well as Scorcese's casino scenes in Casino.  The effect meshes with Wahlberg's entrance on the scene, as he steps into a world where he is the golden child.  You see the wonder – beautiful young people drugs, a swimming pool! and despite better instincts, you become intoxicated along with Dirk.
The screenplay by Anderson is authentic and resonant, evoking David Mamet, but without the showiness.  A prime example is the discussion between Horner and Floyd Gondolli on the changing business of porn:
The music by Michael Penn is evocative of the time as well, and the cuts chosen for each scene are spot on, from Andrew Gold's "Lonely Boy" (revealing Amber Waves as a mother) to the Beach Boys "God Only Knows" providing the coda for the characters, to "Sister Christian", which now serves as a sinister song, as used in the film's most harrowing scene, much like "Stuck in the Middle with You" after Reservoir Dogs.
Finally, the performances are uniformly stellar.  Julianne Moore was nominated for best supporting actress (she was beat out by Kim Basinger in LA Confidential, a great film and a fine performance, but still, Moore was robbed).  Burt Reynolds was also nominated and rightly so.  Interestingly, after seeing a rough cut of the movie, Reynolds fired his agent for casting him in Boogie Nights, but Burt's artistic choices have never been stellar.  Wahlberg stands out, exuding the perfect blend of charm, wonder, cluelessness and want.  Anderson is lucky Leonardo DiCaprio turned down the role to work on a little picture called Titanic.  DiCaprio's a fine actor, but he's a little too savvy and wary.  Wahlberg was perfectly open, trusting and innocent.  The scene where his mother berates him as worthless and stupid, forcing him out of the house, is heart-wrenching.
This is a classic film of America sprawl, ascent, decay, and fall.  One of my favorites and one of the top 20 ever made.