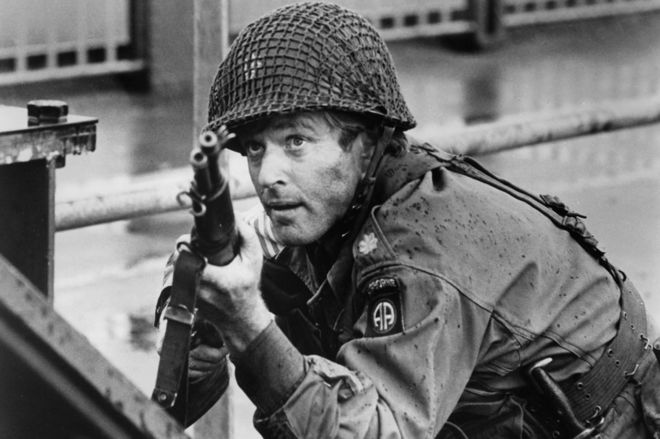 This is a dinosaur, a sweeping, big budget 70s war flick loaded with A and B+ stars of the time, directed with an accomplished economy and flourish by Sir Richard Attenborough (Gandhi).
Imagine the equivalent of this cast in one movie today:
OSCAR WINNERS
Laurence Olivier
Anthony Hopkins
Robert Redford
Sean Connery
Gene Hackman
Michael Caine
Maximilian Schell
OSCAR NOMINEES
Elliot Gould
Ryan O'Neal
Liv Ullman
James Caan
BAFTA WINNERS
Edward Fox
Dirk Bogarde
The picture is post-Vietnam era cynical but not overly so, depicting the tragic clusterfu** that was World War II's Operation Market Garden, an ill-fated attempt to cripple Germany quickly post-D Day via a lightning paratroop strike into Holland.  Everything that can go wrong does go wrong, due in no small part to bureaucratic incompetence and the willful discounting of intelligence.
Attenborough manages to let stars be stars while incorporating the performances seamlessly into a well-thought out and accomplished military drama.  William Goldman's script is also very moving, empathetic to the plight of the foot soldier and bereft of a lot of "hoo rah!" 
There is really only one casting weakness.  I get that you want "young" for General James Gavin, who was 37 years old at the time of the operation, but O'Neal is just too pretty and soft for the role, and his attempt to overcome it (being stern) is unavailing.  He looks and acts like a peeved choreographer.
Some fun tidbits:  Most of the stars took a pay cut, agreeing to a $250,000 weekly fee, with the exception of Redford, who hauled in $2 million for 10 minutes of screen time. 

Also, with two lines, and a spot right behind Redford on a collapsible boat in a brutal river crossing, it is none other than John Ratzenberger (Cliff Clavin from Cheers).  Spoiler – Cliff doesn't make it