The Last Duel – 4.75 stars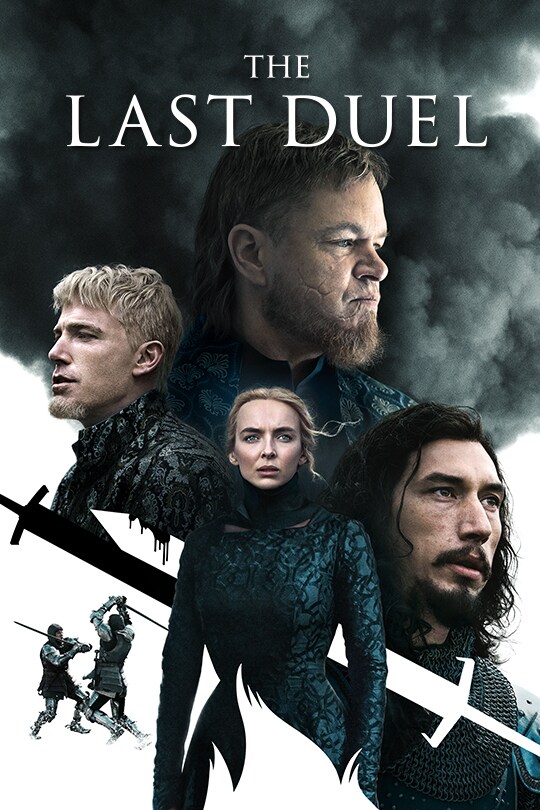 Ridley Scott makes damn fun pictures, and his historical films are some of his most enjoyable. However, when he gets too wrapped up in the visuals, he often loses the thread of story, as with Robin Hood and Kingdom of Heaven, sumptuous, beautiful, and utterly uninvolving period pieces.
Of course, his triumph is Gladiator, a CGI-infused, sweaty swashbuckling Roman sausage fest, and to answer Russell Crowe, yes, we were entertained.
I declare that I have been entertained yet again. The Last Duel is stunning to look at, standard for Scott (it almost feels like a Rick Steves French castle fantasy tour), but also involving, adroitly tiptoeing the line of serious and playful.
The story is simple. We are in France, Normandy, in the Middle Ages. Two knights (stolid, humorless and blunt Matt Damon and dashing, conniving Lothario Adam Driver) spend a great deal of those Ages bringing heavy swords down on the heads of their enemies, intriguing at court, and eventually, becoming bitter enemies over property disputes and Driver's influence with a more powerful knight (Ben Affleck). Their enmity reaches boiling point when Driver is accused of raping Damon's wife (Jodie Comer). The story, based on a non-fiction book, is told through three vantage points: that of Damon, Driver, and Comer.
You may want to stop reading here, as this has just recently been released on HBO, and spoilers will follow.
We live every scene through the eyes of each protagonist. Sometimes, they match up, sometimes there are minor variations, and other times, the recollections are night and day. But the devil is in the details, and some of the differences are quite revealing. The play and import of comparison is one of the niftier aspects of the film.
The picture also has a notable feminist bent, not surprising, given the subservient nature of women at the time and the #MeToo influence during its making. But screenwriters Nicole Holofcener (Enough Said, Can You Ever Forgive Me), Damon and Affleck, if not always subtle, are not heavy-handed and avoid the dour and instructive. In fact, the societal inquiry as to whether Comer could become pregnant via unpleasurable sex/rape is an intriguing line (if memory serves me, not too long ago, a Missouri Senate candidate torpedoed his own bid because he suggested that a woman could not become pregnant through rape).
The entire endeavor is thrilling, nail-biting, and then, because Ridley Scott is Ridley Scott, muscular, bloody and satisfactory.
Damon, who I have raved about for years as the industry's most underrated actor (criminally ignored in The Talented Mr. Ripley, The Departed, and Contagion), again delivers. After his performance in Stillwater, when, oh when, will he be properly rewarded for his performances? Driver is commanding, and as he showed in Marriage Story, there is a dark pit just underneath his easy bonhomie. Comer is often beautifully vulnerable and you feel for her right off.
But, and hear me out, Affleck near steals the picture as Driver's sybarite patron, a man who enjoys needling Damon no end, almost as much as his wine and his orgies. Seriousness is tedium to him, and while you are supposed to sympathize with Damon, Affleck is so delicious that at times, you are swayed by his pinpoint cruelty ("He's no fucking fun!" he kvetches to Driver). But it's more than a foppish turn; Affleck's prince knows the kind of harm Damon, with his unyielding sense of honor, can pose to Driver, and he does his best to ward him off.
After a little too long for my taste, the film ends in a brutal battle to the death, gripping and by no means telegraphed in terms of the victor. And while, given its feminist inclinations, it could've ended with some kind of solemn tut tut message for all of us (the "Medieval Epic About Believing All Women" reviews were as plentiful as predictable), instead, Scott gives us a weepy and happy Huzzah!