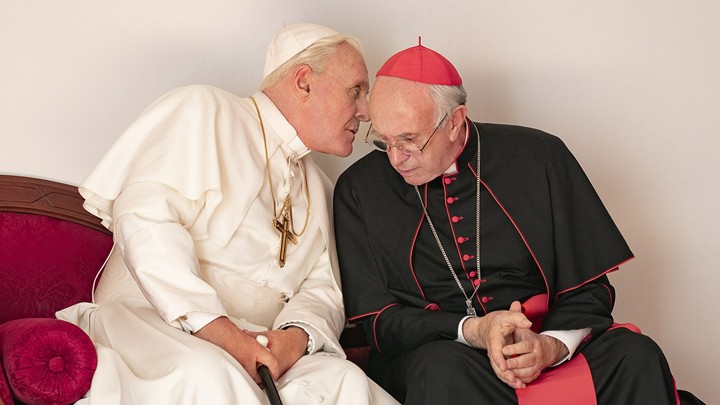 Impares Si obvium habueris senum severiorum CULO
My daughter sussed this one out early:  "This strikes me as the kind of movie your grandma would like."
And what is there not to like for a grandma?  Archbishop Jorge Mario Bergoglio (Jonathan Pryce) comes from Argentina to Rome to hand in his retirement papers to Pope Benedict (Anthony Hopkins).  Bergoglio is modern and hip, as evidenced by his love of fútbol and ABBA, his amiability with common folk, his insistence on sitting up front next to his driver, and his constant painful wincing whenever he sees the trappings of the Catholic Church's vast wealth (he apparently figured he'd be picked up at the Rome airport by donkey cart and taken to a Tetto Rossa Locanda to meet the pontiff).
The two spar in a dull and obvious manner, Benedict emitting conservative values like an automaton, Bergoglio interjecting with impassioned progressive rejoinders.  They watch some futbol, share a pizza, Bergoglio gives Benedict confession and then himself confesses to having been a bit of a stooge for the right wing Argentinian military junta in the 70s, and whammo – Benedict tells Bergoglio that while his prior plan was to accept the resignation and retire himself, he now sees the light of Bergoglio's goodness and as such, rejects the resignation and insists that Bergoglio succeed him.
Unlike some, I have no objections to the fanciful nature of the picture.  The two never had such a meeting and never colluded on succession.  But hey, it's the movies, and as long as you aren't completely changing the arc or import of history, that's cool by me.  Who would argue with portrayal of a fictional meeting between Nixon and Johnson?
But if you are going to make it up, you damn well better make it interesting.
"Do you know the Beatles?"
 "Yes, I know who they are," Bergoglio responds. "Eleanor Rigby?"
"Who?" Pope Benedict asks, "I don't know her."
Oh my Lord.
As to the "import" of history, one story line is really quite egregious, as the film portrays Benedict as central to the cover up of molestation in the Church.  Bergoglio is, of course, horrified.  Apparently, digging ABBA and futbol and pizza can expiate any sin.
Pryce and Hopkins do deliver fine performances (they are both nominated for Oscars) but there are maybe one or two genuine moments in the picture, which could have just as easily starred a German Shepherd and a plucky mutt.