Brawl in Cell Block 99 – 4 stars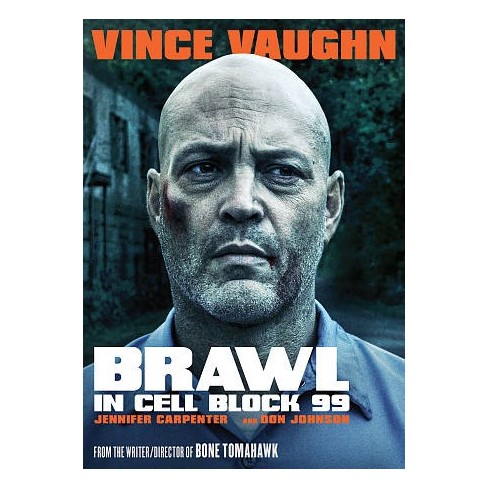 What to make of this film?  It starts off medium cool, with Vince Vaughn playing a rigid, introverted ex-addict and drug dealer trying to stay on the straight-and-arrow.  His temper is volcanic yet weirdly controlled – when he wants to kill his cheating wife (Jennifer Carpenter), he distances himself from her, maintaining an almost chivalric honoring of her being, and then dismantles her car with his bare hands.  He then comes into the house and they have a believably fruitful and mature discussion about where their relationship is headed.
When circumstances force him back into dealing, things go south, and he has to do a stretch in prison, leaving the pregnant Carpenter and their unborn daughter behind.  And then shit gets nuts, as the film shifts from sober prison fare to gonzo 70s grindhouse slaughter-fest.  Vaughn is transferred from a medium security facility, where he meets his mentor and  counselor in what threatens to be a film about his therapeutic journey from there on out, to a maximum security haunted house run by Don Johnson, a cheroot chewing warden straight out of the most lurid of comic books.
The dissonance is jarring, but it doesn't turn you off.  You stay on the ride, happily, as it gets crazier and crazier.
Vaughn is really quite good, but people forget that before he took on the comic galoot character, he was trotted out as a believable villain (Psycho, Domestic Disturbance).  He has done mainly straight drama of late, from the execrably written Season 2 of True Detective to the stock sergeant in Hacksaw Ridge to the recent Dragged Across Concrete (written and directed by the writer-director of this picture,  S. Craig Zahler).  Here, he's in total command and damn chilling.
Zahler knows what he's doing behind the camera, but one wonders – to what end? I hope he rises above his pulpy material before he gets lost in it.
Currently on Amazon.