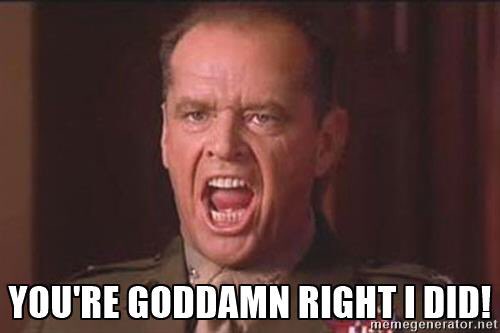 I just caught this in its entirety, and I had been thinking about the film in a political sense as well.  For those who might be unfamiliar, this is an Aaron Sorkin adaptation of his stage play, where a callow, dispirited and cynical JAG lawyer (Tom Cruise) is redeemed in his defense of two Marines on trial for the murder of a third after a hazing incident known as a "Code Red."  The incident was ordered by Colonel Jessup (Jack Nicholson), a rough and ready, cigar chomping patriot, who is content to let the Marines be convicted as collateral damage to a higher purpose (or so he would have us believe).
This a Hollywood vehicle of yore, with big names (Demi Moore was at her zenith here) and bigger speeches, and some of Nicholson's lines have become ingrained in everyday talk ("You can't handle the truth!")
There can be no dispute – Jessup is a villain.  He lets his men hang.  Early on, he ostracizes Moore with a sexual putdown.  He loathes Cruise and his "faggoty white unform" and "Harvard mouth."  He is even, in a very clunky line at the end, quasi-revealed as an anti-Semite ("Son, we live in a world that has walls, and those walls have to be guarded by men with guns. Who's gonna do it? You? You, Lt. Weinberg?" — Weinberg had been sitting at counsel's table minding his own business)  Jessup is a vain liar, and encases his ambition in the veneer of higher goals.  When you walked out of that film in 1992, you enjoyed Colonel Jessup, but you likely did not endorse him.
Twenty five years later, I got to thinking about Jessup and President Trump.  I have become convinced that a modern audience would walk out of the theater much more kindly disposed to Jessup, even after having had his monumental faults exposed by Cruise.  There would be greater sympathy for his swagger, and his vulgarity and cruelty would be more easily tossed off.  After all, he's a doer, not some snide lawyer with a "Harvard mouth."  Indeed, both Jessup and Trump are fixated on a wall ("because deep down in places you don't talk about at parties, you want me on that wall").  Ask folks today, "Who is the hero?" and even though Jessup appears to be headed toward disgrace and a court-martial at the end of the film, I'm confident you'd have a near even split.
As the excesses of Trump pile on, seemingly without a dent in 40 to 45% of those who are periodically asked to provide a thumbs up or a thumbs down, I've heard any number of explanations, but the most widely disseminated is confirmation of the deplorability of his supporters, reducing a campaign flub to a gaffe (aptly defined by Michael Kinsley as "when a politician tells the truth – some obvious truth he isn't supposed to say").  If I am right about A Few Good Men, that conclusion walks hand-in-hand with the Rise of Jessup.  The same mouth breathers who would conclude that Jack Nicholson is the hero opted for Trump over Hillary.  The same folks who support a raving narcissist who can say or tweet most anything would stand by a raging Jessup, as he screams, "I'm gonna' rip the eyes out of your head and puke into your dead skull "  I doubt it is that easy, but I can see the appeal of assuming the dummies and the dark heart of America have finally combined to bring about Nero.
I think, however, that easy conclusion misses a few things.
First, Cruise would probably be respected by the Jessupites, even if loathed.  He bested their champion in the courtroom, and even though he's a puling fancypants in his dress whites, you gotta' give him his due.  With regard to Trump, however, I think the deplorables don't have the same feelings about the forces – Clinton, the media, the punditry – who they feel were and are arrayed against him.  Because they conclude that those forces are every bit as corrupt as Jessup, their fealty remains strong.  As a graduate of the Harvard of the Shenandoah, I get where they are coming from.
Also, Trump, like Jessup, presents himself as not only a doer, but a bulwark against the corrosive forces of the establishment and their collective Harvard mouths.  I mean, three lawyers against a man who stands on the wall?  Come on.  Not even close.  There is a moment in Cruise's cross-examination that emphasizes the distinction:  "Yeah, but it wasn't a real order, was it? After all, it's peace time. He wasn't being asked to secure a hill or advance on a beachhead."  That, of course, is the massage of the smart set.  There are orders and then, there are "real orders", and invariably, the more the order disadvantages the snoots at their cocktail parties, the more it is coincidentally less real.
Perhaps most importantly, Jessup is just simply a helluva lot more entertaining than Cruise.  He has all the best lines, and in an age where entertainment and politics have seamlessly melded, that's a quality that should not be underestimated.  Jessup and Trump are stars and they positively bask in the freedom to engage in the crudity that leads lessers to the podium,  spouse and dogs at their side, to ask forgiveness.  That hubris laid Jessup low.  But that was a quarter century ago.
As for the film, it holds up okay.  The Sorkin patter is snappy and smart but hadn't yet been reduced to the gibberish of The West Wing, and Cruise and Nicholson define star power, both giving their all.