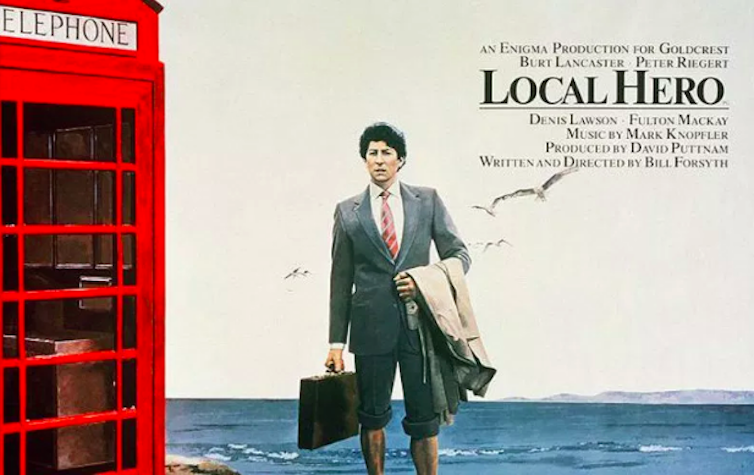 Writer/director Bill Forsyth was born in Glasgow so he was well-positioned to create this love letter to Scotland. Big oil executive Peter Riegert, who lives a precise, antiseptic and singular life in Houston (he prefers to do deals at arm's length – "I'm a telefax man") is sent to a small fishing community in Scotland to buy up the land for a new refinery site. Before his journey, the company's quirky owner and amateur astronomer, Burt Lancaster, enlists Riegert to canvass the skies in search of a comet. Riegert finds a quaint, simpler life that slowly transforms him from uptight businessman to wistful boy, entranced by the scenery, pace and wonder of the coast.  The charm of the film is embodied in the village, in the film's quieter moments, and as it infatuates Riegert, so too the audience.
There are so many good things about this picture it's hard to catalogue them all. Riegert manages to be deadpan yet earnest, never once lapsing into sarcasm or condescension, and Forsyth writes him in a manner that never requires an explanation of or ode to his disquiet. The villagers are not schmaltzy local yokels, with a song in their heart and a lesson to impart.  Rather, they are a slightly cynical bunch who received intel on the purchase and they – like anyone – lust for the big payoff.  As Forsyth has acknowledged, "I don't want you to think there was some deliberate message. You talk about the plot, but was there one? I mean, people can look back and say, oh, this was all an early one about the environment or whatever, but it didn't happen that way, or if it did it was accidental. I'm not political, either in film or personally, and I don't really do plot, and certainly don't aim to broadcast a 'message'. I suppose I like to tell stories. And if I'm writing a film, and don't really have a plot, then you have to fill the screen with something, so I try to do so with characters, incidents."
The picture features an impossibly young Peter Capaldi (In the Loop, World War Z), hilarious as Riegert's liaison.  His high dudgeon when the town's cook serves him an injured rabbit he has saved from a road injury is priceless.  Mark Knopfler also contributes a restrained, moody score that melds his guitar licks with a little-80s Vangelis synthesizer.
Apparently, Forsyth only got a few bites at the apple in Hollywood, the last one being a poorly reviewed Robin Williams vehicle, Being Human.  It's a shame.  Forsyth was interviewed by The Guardian in 2008, which correctly called Local Hero "one of the quiet must-see little masterpieces of British cinema."