Love After Love – 2 stars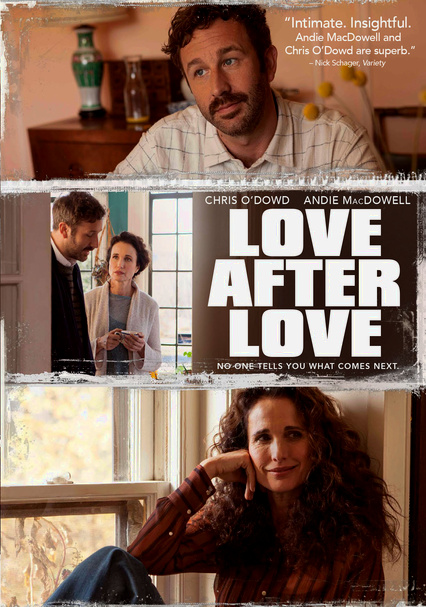 A bit of a critic's darling, I can see what impressed: the raw feel of the characters, and the film's unstinting portrayal of loss to a mother (Andie MacDowell) and her two adult sons (Chris O'Dowd and James Adomium) after their husband and father succumbs to a long term illness.  We see the family at different intervals before, during and after the disease, and there are moments of real tenderness and pain that affect each of them.  In particular, MacDowell, an acting teacher, has a wonderfully realized moment where she cruelly unleashes on a student during a read, and Adomium references larger issues of death in a stand-up routine that starts uncomfortable and then rights itself.
What's bad?
O'Dowd.  He's way too overt as the weak son, the charmer who resents his mother for any number of reasons, but perhaps mostly, because she is strong.  O'Dowd plays it much too Oedipally, and he oozes rather than acts.
The segmentation of the story into pieces is also problematic, a double-edged sword.  A few scenes seem like well-presented one-acts.  But more often, the characters are doing things that are not supported by what we have seen before.  We are left to fill in the gaps.  One such rather unforgivable one is the absence of the relationship of the characters with the deceased.
Finally, if you take all the high-stress, histrionic and embarrassing scenes of a family's life for a few years, and make a movie of them, they will not come off as relatable, but rather, alien and masochistic.