They Shall Not Grow Old – 5 stars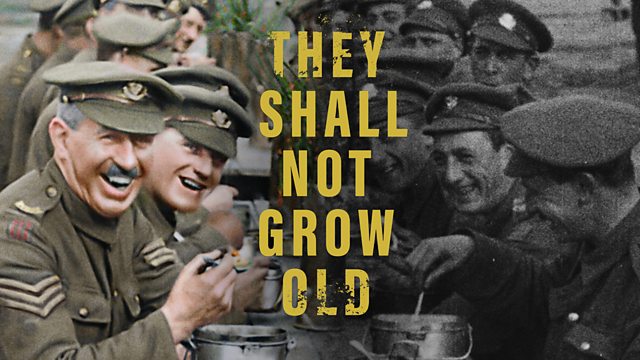 Many museums offer documentary films covering the subject matter of the locale and event they memorialize.  The last one I saw was at the Holocaust Museum in a small alcove theater where you could get a respite from the vast tragedy to watch a short, continuously run film (the one I saw was about a particular figure and her trek from liberation to Israel).  At Antietam, a similar re-enactment film runs, explaining the day of battle, narrated by, I am almost certain, James Earl Jones.
At the outset, They Shall Not Be Forgotten, Peter Jackson's documentary about the British experience in World War I, has the same feel.  It is simple black-and-white footage overlaid with the voices of those who fought the war recounting their experiences.  There are, however, critical and moving differences.
First, about one fourth of the way in, the black-and-white film comes to life in color, as Jackson has painstakingly restored over 100 hours of footage from the Imperial War Museum.  Jackson even employed lip-readers to approximate what was said by the men in the footage, giving the sense of a sound recording.  The effect is as if ghosts were revealed in the restoration.
Second, the memories are culled from 600 hours of interviews of 200 Great War veterans, who remain anonymous and speak of the every day experience rather than their role in the titanic struggle.  There are no names, and no battle or locale is identified.  You follow no particular individual, though you can discern the British voice in all its forms.  As such, you feel the collective experience without the shackles of a linear, fact-driven recitation.
Jackson's film is also a generational memorial.  These men haven't been educated in the ways of individualism and introspection and as you hear from them, you can glean a reluctance to speak, a "what is all the fuss?" mien.  This countenance rarely cracks, even as the horrors of the war pile up in their reminiscing.
As with Apollo 11, there is no historian or pundit or wag telling you what it all means.  These are the unvarnished recollections of men who would have been forgotten more quickly were it not for Jackson's contribution.   A must watch and a cultural treasure.