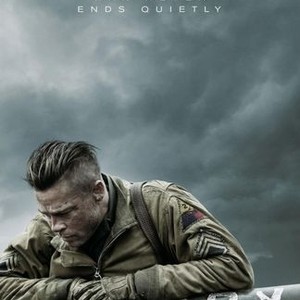 A traditional war picture depicting the harrowing experiences of an American tank unit at the close of World War II, this white-knuckle drama alternates between the well-trodden verisimilitude of Band of Brothers and Saving Private Ryan and the cynical outlook of The Thin Red Line and Flags of Our Fathers. Brad Pitt commands a tank crew that includes Shia LaBeouf (the religious gunner), Jon Bernthal (the profane Southerner), Michael Pena (the sly Mexican) and Logan Lerman (the baby-faced clerk/typist accidentally assigned to the unit). Lerman undergoes a baptism by fire, as Pitt attempts to de-sensitize him on the fly in an effort to make him more effective. This includes light beatings, a few sermons and, eventually, much worse. That pretty much does the trick, and the rest of the film consists of the unit taking on two missions, both of which are visually audacious and nerve-wracking. In particular, the battle between three under-matched Sherman tanks and a Tiger tank is a thing of beauty.
Writer/director David Ayer (End of Watch) occasionally veers into the hackneyed, but the actors elevate the material with a cohesion that seems genuine. They actually feel like a unit cramped together for three years, especially when they engage in everyday banter, such as "best job I ever had." Ayer also writes a haunting scene where Pitt and Lerman spend a quiet meal with two German women, only to have the rest of the crew bluster in angrily to join them, a reminder of their grotesque existence.
One the downside, Steven Price's score is bizarre and bombastic, better suited to a Lord of the Rings pic than a grim war film.  The final battle scene is also a bit too protracted and incredible, at odds with the grimy realism of what preceded it.
This is a solid picture and one I was surprised was made (the budget was over $60 million but at last count, it had grossed over $80 million domestic and over $200 million total).  Apparently, there's an audience for this kind of story (unless Pitt still has that kind of box office juice).