The Iron Lady – 2.5 stars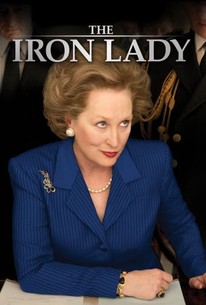 First, I really have no idea as to the historical accuracy of the movie. To the extent there are historical nits to pick, I concede.
Second, this is two films.  One, very personal and touching, speaking to the loss of a loved one and an individual's weakening ability to remember, a great thinker's capacity to articulate and rationalize.   Meryl Streep's turn as a woman infected by Alzheimer's is frightening, poignant and moving.
Third, it works less well as a political biography.  The young Thatcher is a simplistic spouter of conservative bromides.   As prime minister, she's almost ridiculously "iron" with the men about her always clucking like nervous nellies.  Worse, particular challenges are handled via music video montages and newsreel footage. It lends a certain cheap and easy feel to the endeavor.  During The Falklands War in particular, she is the lone Joan of Arc amidst jelly bellies. Speech follows speech, with great, grand pronouncement. It gets silly.  We even have the obligatory review of the casualty figures and the personal letter-writing histrionics.
Fourth, Streep is beyond convincing in the role and when assessing the body of her work, the idea that she is not the finest actress in the history of film is laughable.  There is no Magic Johnson to her Michael Jordan. It's not even close. And she only gets better.  As the nun in Doubt, she completely captured the nuns of my early education, and as Julia Child in Julia and Julia, a role that like Thatcher could have been hammy and overt, she is vibrant and real.